"I Will Walk Out On My Own Two Feet"

Friday, December 1, 2006

Just one photograph saddened, shocked but inspired the world. A man smiling into the lens of a camera, though sick and reduced to a skeletal frame, displayed an indomitable spirit that touched the hearts of many. His name was John 'Jack' Sharpe.
Just one photograph saddened, shocked but inspired the world. A man smiling into the lens of a camera, though sick and reduced to a skeletal frame, displayed an indomitable spirit that touched the hearts of many. His name was John 'Jack' Sharpe.


The renowned photograph of POW, Jack Sharpe,
smiling, despite being reduced to bones.
Jack Sharpe was serving with the 2nd Battalion, Leicestershire Regiment. He trained in Britain before being sent to India. He was eventually sent to Singapore just a few days before the invasion of Singapore. He was captured by the Japanese during the fall of Singapore in 1942.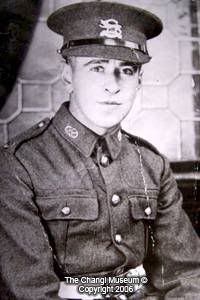 Jack Sharpe in his uniform (pre-war)
He was first interned in Changi before being sent to Ban Pong, Thailand to work as a slave labourer on the Thai-Burma railway. Whilst in camp, he noticed that the Japanese guards had not been particularly attentive to their duties, believing that no one would escape. He took advantage of the situation and escaped from his camp, however he was eventually caught by a Thai local and was handed back over to the Japanese.
Upon his return, Sharpe was put in front of a firing squad, expecting his death. He waited for the gun blasts to fire through the air, signaling his end, but fortunately, that was not to be. A Japanese colonel had intervened before the firing and quarreled with the officer in-charge over Sharpe's fate. After an anticipating wait, the colonel walked over to Sharpe repeatedly hit him with a scabbard and kicked him before ordering him to get up.
With hands tied, he was marched back to Ban Pong and was handed back to a guard. The Japanese guard who had been a frontline soldier himself had respected Sharpe for his daring escape. He loosened the straps binding his wrists and handed him a cigarette. Jack Sharpe recalled several years later:
"I remember it was a Three Castles cigarette. I enjoyed it.
As I finished it, the guard turned to me and said: 'That will be the last cigarette you ever smoke.'"
He was sent to a place called the 'house of cages' in Bangkok where he attended a court martial for trying to escape. Initially he was sentenced to two years imprisonment. However, after the president of the court asked him if he had anything to say, Sharpe daringly began to curse the Japanese. Subsequently, his sentence more than doubled. The president of the court was more than furious and insulted Sharpe by saying that no Japanese soldier with a body as strong as his, would allow himself to become prisoner. That was when Sharpe told him off and said that he would live to see all of Japan surrender and that he would walk out of the prison on his own two feet. The insult gave Sharpe the will to live.
Sharpe was subsequently brought to Singapore where he faced the infamous Outram Gaol. He knew that no one would be able to survive Outram Gaol two years, much less four and a half years. Few were known to have survived Outram Gaol.
Outram Gaol, courtesy of
National Archives of Singapore (c.1963)
Sharpe was placed in solitary confinement for 14 months. Conditions were poor and long hours of sleep was difficult because the sentry would bang on the door every hour of the night and he would have to call out 'yes' in Japanese. Sometimes they would simply beat up him up when they wanted to find something to do. Sharpe was full of lice and he was fed three meagre bowls of rice a day and a mug of dirty water. He was eventually brought out of solitary confinement and worked during the day with the other prisoners.
Death had become part and parcel of Jack Sharpe's life in prison. Many were dying from the physical abuse and beatings by the Japanese. The prisoners had also contracted diseases from contaminated water and died as a result. If prisoners did not die from deterioration of health, they died as a result of execution.
As more and more people began to die within the walls of Outram Gaol, the Japanese became concerned about the reputation of the building. Hence they began to transfer some of the prisoners to Changi Gaol which had medical facilities. Sharpe was asked to move to Changi but he refused. Sharpe couldn't help but remember the promise he made to the president of the court, that he would walk out of Outram Gaol on his own two feet. He was determined to fulfill that promise.
He contracted scurvy and scabies during his internment which resulted in the deaths of many others but he kept telling himself to go on. His scabs disappeared eventually as he kept his will to live however more and more men around him were either starving to death or they simply gave up.
"The only time I faltered was when my best friend - the one who was beaten - died. I couldn't see the sense in going on but I had to."
It was in May 1945 that he heard that the war ended in Europe. That gave Sharpe a sense of hope that war would end in the Pacific as well. In August that same year, the Japanese finally surrendered.
When the camp was relieved, and he was being carried out of the building, he noticed the sign over the gate. He instructed the men to put him down because he insisted that he had to walk out of the gates on his own two feet. He staggered on his own past the gates of Outram Gaol before being picked up again and sent for treatment at Changi. He was unconscious for 48 hours.
When he came around, a non-commission officer gave him 38 letters, all from Sharpe's mother who had written to him every month despite being told that her son was 'missing - presumed dead'. His mother never lost faith.
Sharpe was the longest survivor of Outram Gaol. Upon his capture, he weighed 70 kilograms. Upon his release, he weighed less than 25 kilograms. Jack Sharpe returned to England in January 1946 and spent over a year recovering. In an email written to the museum by Jack Sharpe's daughter & son-in-law, Ray & Paul Brotherton:
"When he felt able, he visited the next village as a 'trip out'. In that village he visited the local public house where he met and fell in love with a barmaid called Sophia. They married in April 1947. They raised a family of one son John, and a daughter called Ray."
Jack Sharpe with his two children, Ray and John in London (1956)
Jack Sharpe getting married to Sophia on April 5th 1947
Sharpe had made another vow to himself after the war ended, that he would outlive the Japanese Emperor (which he did). The impact of the war on his life and on several Prisoners Of War (POWs) had become very apparent during a protest against the Emperor's son's visit to London where many of these ex-POWs, including Sharpe, turned their backs as the cars ferrying the Emperor's son, passed them.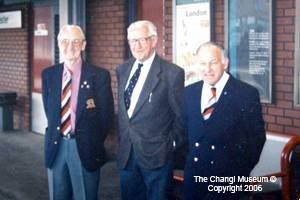 Bill Cobley, Jack Sharpe & Phil Dixon before the
protest against the Emperor's Son's visit to London (May 1998)
Despite the brutalities committed against him, Sharpe did not hold a real grudge against the Japanese which showed by the fact that he rode a Japanese-made motorcycle for many years (unlike several POWs who boycotted Japanese-manufactured products).
Jack rarely spoke of his experience during the war, to his children. However with time he began to finally tell his grandson, Ian, about his experiences.
The legendary photograph of Jack Sharpe hangs in the Imperial War Museum and is also on display at the Changi Museum. Jack Sharpe, though reluctant, summoned his strength to visit the museum on 17th February 2002, during the 60th anniversary of the fall of Singapore.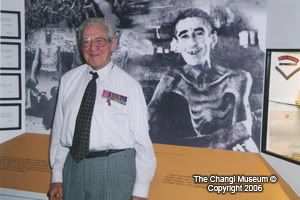 Jack Sharpe next to his own photograph at the Changi Museum in 2002.
Jack Sharpe became a gardener after the war then retired as a much-loved school caretaker. He peacefully passed on in Leicester, 13th August 2002.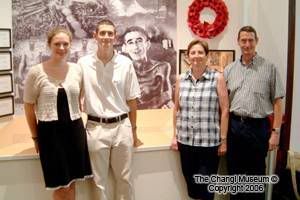 The museum extends their appreciation to the Brotherton family for their contributions to the museum for making Jack Sharpe's story complete. The photograph above was taken during their visit in September 2005. From left: Heather, Ian, Ray & Paul Brotherton.

This adapted from
http://www.findarticles.com
and the article "Death was all around me every day for 3 1/2 years" from an unknown source. Donated by the Brotherton family.


________________________________________________________________