Love Through War - Stanley Durston & Pat Bracken

Sunday, October 1, 2006

It was a casual evening at the Great World club in Singapore 1941 that sealed the fate between Stanley Durston and Pat Bracken. Stanley had met the young lady for the first time at that club, after being introduced by Pat's godmother who had earlier on met him in Port Dickson. For Stanley, it was love at first sight and he knew that he wanted to spend the rest of his life with her.


Stanley Durston and Pat Bracken

Stanley, who was of Welsh descent, grew up in Cumaman, South Wales with six other brothers and sisters. He led a difficult life especially after his father passed away in 1926; when Stanley was only 7 years of age. Despite the financial hardships that his family went through, he had led an overall uncomplicated life. Stanley had a thirst for adventure and knowledge which was why he willingly signed up for the Royal Horse Artillery when he turned 17. Eventually news got out that the Army was looking for volunteers to serve in Singapore. Attracted by the mysteries of a foreign land, he, together with his close friend Doug, signed up and set sail to Singapore. In Singapore, both of them were instantly dispatched to the 9th Regiment - 7th Coastal Battery 15 inch coastal defence guns.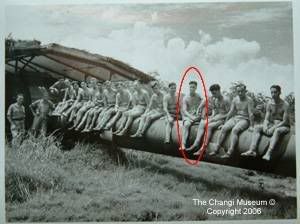 Group shot used as propaganda for the 15 inch coastal guns.
Stanley is the man circled in red.

Pat, who was of Dutch heritage, grew up in Singapore together with her two younger brothers, Kenneth and Duncan. Her parents were immensely protective over their only daughter which gave Stanley a large obstacle to overcome, while he was trying to court the young lady. Stanley managed to get permission from her parents to court her, on the condition that they would always be chaperoned by a family member.

With the invasion of the Japanese Army imminent, Stanley's primary concern was for the safety of Pat. He raised this concern of his with her family and explained that should they allow Pat to marry him, he would have her evacuated with all the other married families back to England and to his mother's home in London. After much persuasion, Stanley successfully convinced her parents on allowing the marriage. The couple were wed in a Registry Office or Army Chapel on 20th December 1941. Stanley was 21 years of age and Pat was 16 and a half.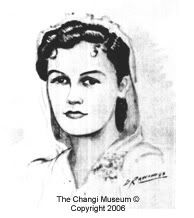 Leo Rawling's portraits of Pat Bracken & Stanley Durston

Although Pat was supposed to be evacuated, she refused to leave the country, wanting to be by her husband's side. She stayed with Stanley in a small rented room in the married quarters. However, Stanley was soon ordered to return back to the barracks as war was becoming imminent. This meant that Pat (who was pregnant) had to return to her parents' home in Katong.

When Singapore eventually fell, Stanley's officer in-charge instructed him to quickly return to his wife. This was because it was rumoured that the Japanese were going around raping and mercilessly killing civilians. Just as Stanley returned to Katong to pacify his very distressed wife, a Japanese sergeant barged in. Stanley was able to convince the Japanese sergeant that Pat was his wife, and with that the sergeant turned on his heels and left the couple and Pat's family unharmed.

However, the same Japanese sergeant along with two other Japanese soldiers, subsequently returned and arrested Stanley and had him sent to a POW camp. While interned, Stanley found means and ways to sneak out and meet Pat, and even at one point, jumping off a truck that happened to be passing by her place of residency.

On Pat's side, many of her relations had tried to flee but failed at doing so. Many of them either drowned or got lost at sea while trying to flee from Singapore Harbour. She continued to live in Singapore with her parents and brothers as a civilian however they were forced to wear a 'red star' on their shirts. Then, all 'enemy aliens' (family members of those in the Singapore Volunteer Force and British Army) were forced to wear these 'red stars' to indicate that they were an enemy alien.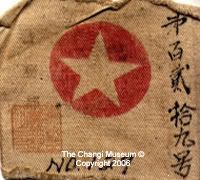 Example of a 'red star' worn by Japanese 'enemy aliens'.
Donated by Christopher and Felicity Stonehill.
Worn by I.G Salmond.

In 1943, several Catholic and Protestant groups were sent up to Bahau, Pahang, to grow food for themselves, with little farming skills and/or tools. Pat's family was amongst those who were sent up there, and unfortunately, some of her family members never made it back to Singapore. Up in Bahau, she had lost both parents and a brother due to the terrible living and working conditions.

Stanley had survived life as a prisoner-of-war under the Japanese because of his resourcefulness and ingenuity. He managed to talk his way out of being sent to Burma to work on the railway which could have possibly saved his life. For survival, he would buy and sell smuggled cigars and food. He would also send whatever money he earned to Pat and his baby daughter Barbara, whenever he could.

At the end of the war in 1945, he was finally reunited with his wife and daughter. They subsequently moved to Liverpool, Britain, a week after liberation and reunited with Stanley's mother. They continued to live in Britain until 1958, when they decided to move to Australia and continue raising a family there.

Pat died of pancreatic cancer in 1982 at the age of 57. Stanley died of bowel cancer, a day before what would have been Pat's birthday, in 2001. They peacefully passed away, leaving behind their 5 children, 14 grandchildren and 10 great-grandchildren.

An adaptation of 'Survival and Across The Boundaries of Time' by Carol Payne, daughter of Stanley and Pat Durston. Donated to the museum in 2005.


________________________________________________________________